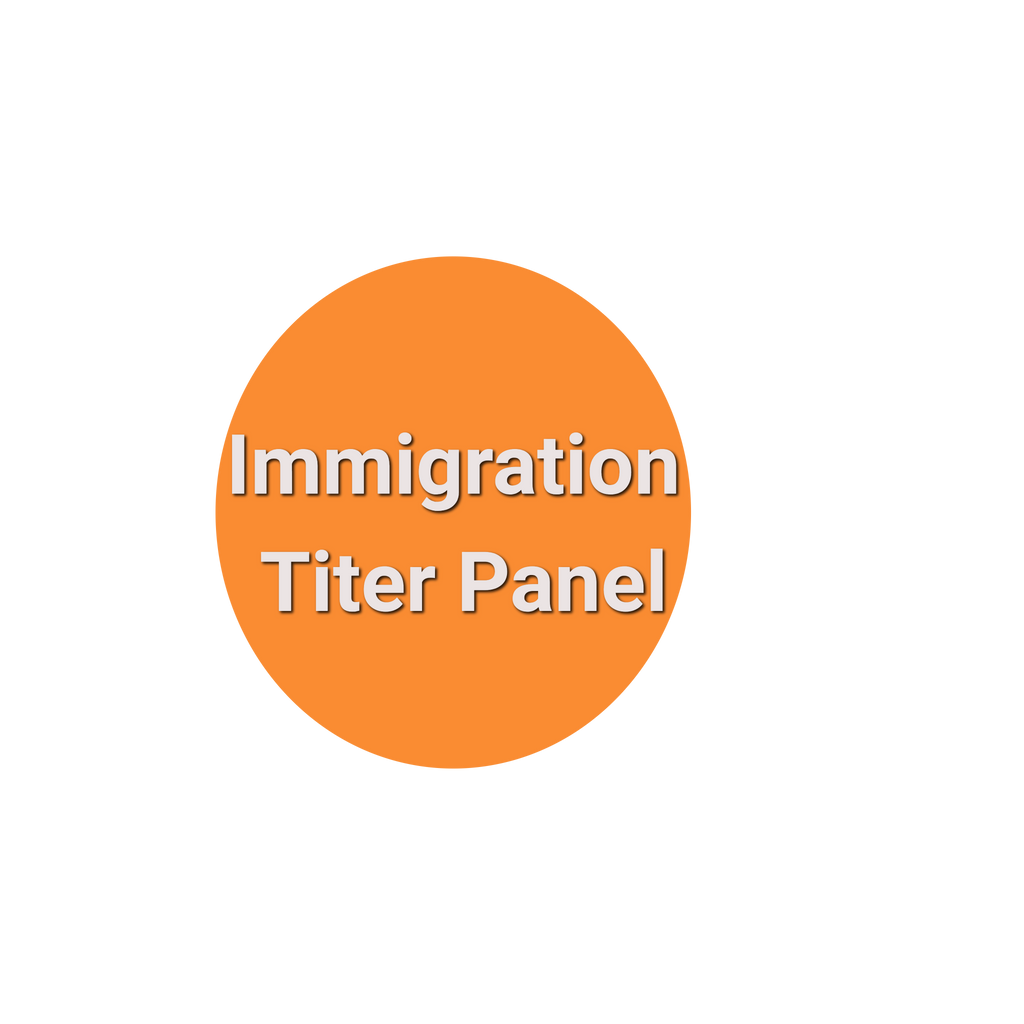 Vaccination Titer Panels for Immigration
$ 279.99
Vaccination Requirements for 18 years and older.
I-693 
Under the immigration laws of the United States, a foreign national who applies for an immigrant visa abroad, or who seeks to adjust status to a permanent resident while in the United States, is required to receive vaccinations to prevent the following diseases:
Mumps  

Measles 

Rubella

Varicella  (ChickenPox)

TB Blood Test -Many people born outside of the United States have been given a vaccine called BCG. People who were previously vaccinated with BCG may receive a TB skin test to test for TB infection. Vaccination with BCG may cause a false positive reaction to a TB skin test. A positive reaction to a TB skin test may be due to the BCG vaccine itself or due to infection with TB bacteria.TB blood tests (IGRAs), unlike the TB skin test, are not affected by prior BCG vaccination and are not expected to give a false-positive result in people who have received BCG. TB blood tests are the preferred method of TB testing for people who have received the BCG vaccine.)  
If you have had the vaccinations but no proof, blood titers can be done to show immunity.
Our  Basic Immigration panel includes the following test: Blood test not Vaccinations. 
Also available Basic panel plus Gonorrhea / Syphillis tests and Vaccinations. 
Not Included in Basic panel but available in additional panels, Gonorrhea / Syphillis test, Flu Shot and TDAP vaccinations.   Please know that many Civil Surgeon Exams include the Gonorrhea/Syphilis testing.   Please check with your provider. 
We can also provide a TDAP titer if you prefer not to get revaccinated for Tetanus and sure you have have had the vaccination within the last 10 year.  The shot is less expensive than titer testing so we recommend if you have any doubts, to get vaccinated.  If you need help figuring out best options, please email us at customerservice@labreqs.com or call us at 1-844-455-6355
Flu shots( usually available in Mid August or early september) 
We can also provided TDAP titers, a TDAP shot, and Flu shots. 
Customer Reviews
100
reviewers would recommend this product
Write a Review
I recommend this product
Good service
Good experience overall
Easy and comfortable. Fats results
Needed some blood titer testing for an immigration interview and arranged for the testing thru LabReqs. Online chat was super helpful and the order was easy to place. Received my lab requisition fast and that process (giving the blood) was easy and comfortable. Results came a few days later and were easy to access and clear.
Quick and easy
Received the request within an hour and was able to do the test the next day!
Easy and quick
Very easy to use site and convienent location of lab. Fast turn around of results. And the best part it's all electronic!