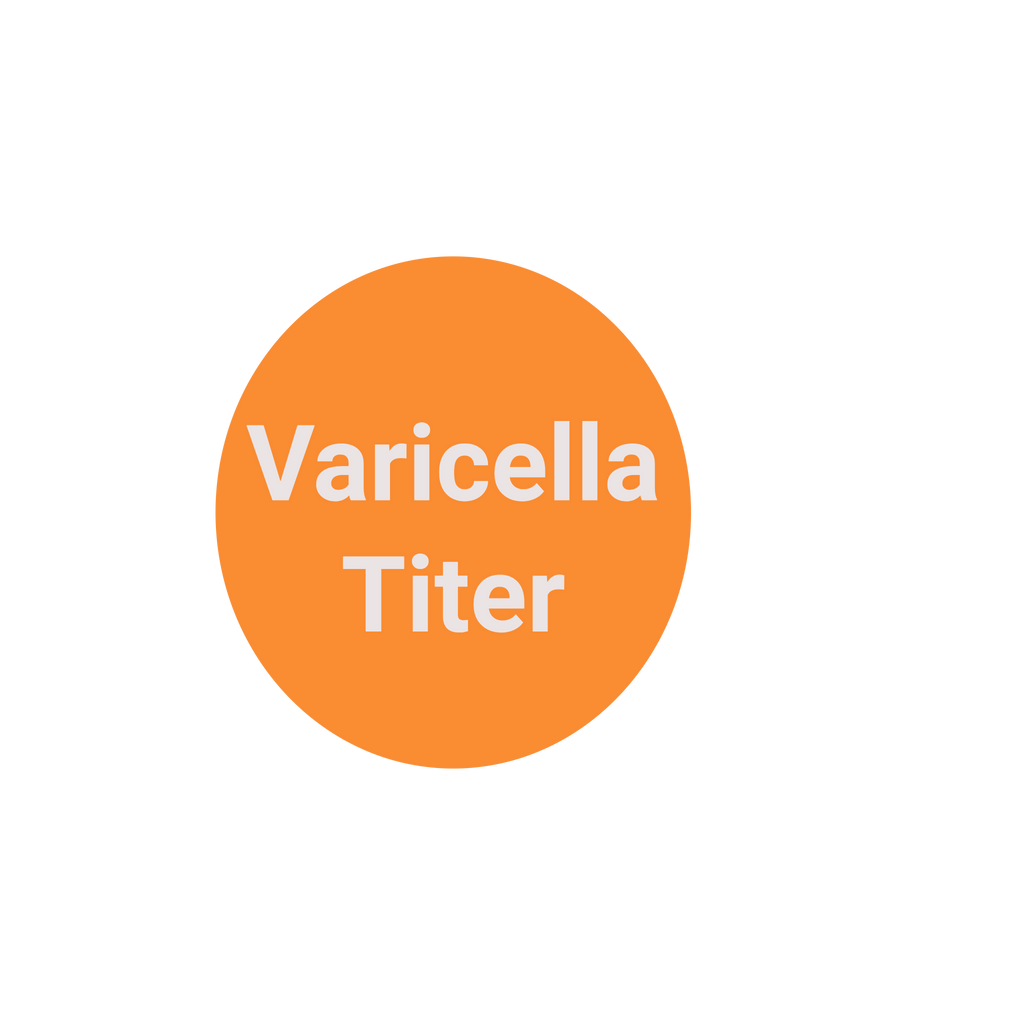 Varicella Titer (Quantitative) aka Chicken Pox Titer
$ 49.99


Chicken Pox titer tests
Varicella titer Test required by most schools and employers to prove immunity.
The Varicella Zoster Virus (VZV) Titer is a blood test that checks if you are immune to Varicella Zoster Virus, also known as Chickenpox and Shingles. It measures your antibody levels to get a sense for whether your immune system has the capability to respond to an infection with one of these diseases.
Who should get a Varicella Titer Test (Chickenpox test)?
The varicella titer test (chicken pox test) is recommended for anyone who may require a chickenpox vaccination and needs to verify their immunity status. Chickenpox vaccinations are necessary for teachers, childcare workers, healthcare workers, students, military personnel, international travelers, inmates and staff of correctional institutions, and adults living with children. Women who are planning to become pregnant should receive a varicella titer test.
Quantitative IGG Titer Test Results

.    All test will have values and reference ranges which is required by most schools and hospitals when applicable.

 
After placing an order, you will receive a doctor approved lab order by email usually within 20-30 minutes. The emailed Lab Requisition will allow you to go to a local patient collection site to get tested. You will not have to pay any additional lab, collection or doctor's fees.  Most test will normally report within 48-72 hours by secure email. List of collections site can be found using our Lab Locator Tool. If you have any questions please call our offices at 1-844-455-6355 or chat online with a member of our Care Team. 
Customer Reviews
100
reviewers would recommend this product
Write a Review
08/03/2023
Mahzad M.

United States
I recommend this product
It was easy - go for it!
A couple of tips: Don't waste time calling or texting them. Go online, select your required tests, pay for it, make an appointment for your selected area, and just walk in (15 min early) and get it done. I did all that and went there 30 min earlier, it seems like I was the only one with appointment, so I didn't even sit in the lobby. My in and out time was under 7 minutes. I was home exactly at the time I had appointment there, which it was funny but very pleasant. One last thing, do not schedule for early morning. Usually, too many people who are fasting are there and so I scheduled after business lunch time. Overall, I am happy.
07/22/2023
Shayla M.

United States
I recommend this product
Vaccine
My technician was professional and pleasant
07/21/2023
Saul A.

United States
I recommend this product
Fast and easy response to results
07/09/2023
Anonymous

United States
I recommend this product
Quick, easy and affordable.
The experience was great and you won't find a better price. I actually have a labcorp account, so I received my results a little after midnight the same day. I highly recommend creating an online account for your chosen lab to receive your results even quicker. Will be using again in the fall!
07/07/2023
Anonymous

United States
I recommend this product
Excellent service
Very good. All the staff are friendly